Choice Cream SW 6357 from Sherwin Williams | Mr. Happy House
Selecting the right color for your next house painting project is very important. You don't want to be in a hurry to paint your house with just any paint color, because you may not like it! In this article, we have listed down below a few different house paint colors such as Choice Cream SW 6357 from Sherwin Williams and many others for you to choose from if you are deciding to paint your house:
Choice Cream on Exterior of House
Choice cream from Sherwin Williams is an excellent color to use for the exterior of your home. Instead of a bright white color which may look plain, we recommend using a creamier type of white like this paint color which gives the home a little more of style to it along with a brownish type color from the fascia, soffits, and trim around the house.
Sherwin Williams Choice Cream for The Dining Area
Not only does SW 6357 Choice Cream look great for the exterior of your home, but it is also another great color to use for your dining room. Most dining rooms have a more of a lighter type of white, but with Choice Cream from Sherwin Williams, it gives the dining experience more of a luxury and welcoming feel than a plain white color.
Choice Cream SW 6357 is great for setting a calm and cozy feel when reading a book or creating some awesome ideas in your study room. When you go with a professional painter in texas or other areas in the United States, Choice Cream and similar colors are highly recommended for the interior as these colors are very popular.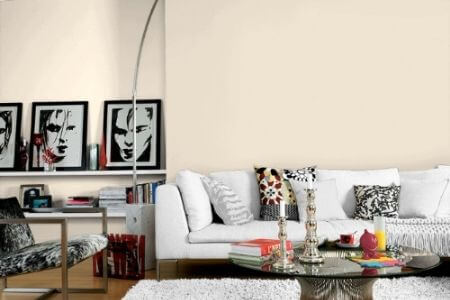 Choice Cream SW 6357 on Siding
Down below is Choice Cream from Sherwin Williams on a high end home with stucco siding in The Woodlands, TX. Choice Cream goes very well with stucco exteriors and is a great paint color if you are planning on selling your home or impressing your neighbors.
Check Out More Paint Colors from Sherwin Williams
I Hoped You Like This Article on Choice Cream SW 6357 from Sherwin Williams, please share and tune in for more house painting ideas!
If you are looking for a house painter in The Woodlands or Spring, Texas, give Mr. Happy House a call and we can make your house HAPPY with a professional exterior or interior paint color!
Affiliate Disclosure: This post may contain affiliate links to products or programs. We carefully select and test each product we promote, if you choose to purchase a product through these affiliate links, we may earn a small commission. This helps to us publish more free content just for you.