Published January 9th, 2020 | Updated June 24th, 2020 | By Mike Monyak, Founder of Mr. Happy House
Get PRO House Painting Tips & Ideas!
Made by our professional painters, this House Painting PRO Checklist can help you get started with your next painting project.
Make your home look fresh with this Exterior Home Maintenance Checklist.
Having a nice home that looks a lot more than what it's worth is not so easy to come by, It can cost a lot of money to maintain a home and even more when you don't maintain it properly. 
In this blog, I will give you a checklist that you should go by if you want your home to last, if you want to save money, and so you can be at ease knowing that your home is in good condition.
1) Cut Your Grass & Trim Hanging Branches
I know this sounds odd, I am not a landscaper or a landscaping expert, but if you let your grass grow too tall, it can be damaging to your siding, walls, and driveway, because it attracts unwanted moisture.
Moisture can build up and leave mold on your siding and driveway.
Now how will this affect the inside of your home?
Well if the mold gets bad enough, it can seep into and past your insulation in your walls which can get into the air of your home, and that can get very dangerous.
If you have trees near your home, and you have branches that stick out over your roof or even touch your house, I definitely recommend cutting those off. You don't want any branches touching your house because that will attract animals to walk directly into your home and maybe even chew up some areas.
2) Pressure Wash Your Home At Least Once a Year
A good rule of thumb is to pressure wash your home and driveway about once a year. This is one the Essentials in this Exterior Home Maintenance Checklist because pressure washing will remove excess dirt buildup and mold on your siding so that no rotting or animals will be attracted to your home.
Plus, the pressure washing will make your home look very nice.
3) Inspect Your Home with a Professional at Least Once a Year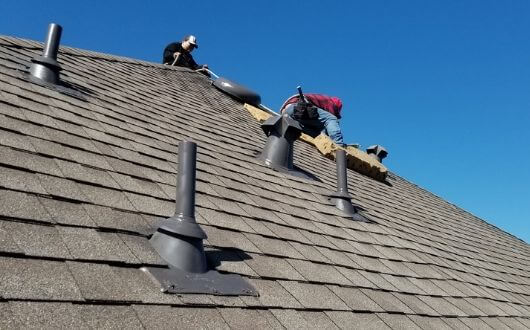 I recommend hiring a home inspector or a contractor to inspect your home unless you are one yourself. Don't just hire anyone either, hire a home inspector or contractor that has experience and has a good reputation because most of the time, they will give you the truth and not just a bunch of things that you don't need on your home.
I Hoped You Like This PRO Exterior Home Maintenance Checklist, Please Like, Comment, or Share on Social Media so That We Can Keep Posting Our Home Improvement Tips & Tricks.
Call the Roofing Experts Today!
We'll Work with You to make your Home stand out and last a long time. We have been in business since 1991 and have extensive experience with Roof Repairs, Roof Replacements, Siding, House Painting, Seamless Gutters Installations & Much More!
Schedule a Free Estimate Today!