Warning Signs It's Time For a New Roof | Mr. Happy House
Your roof is arguably the most important structure on your home. A good quality roof can protect you and the entire structure of your home from heavy rain, snow, and debris. Roofs can keep you warm during the winter season as well.
Like many things, roofs won't last forever. It's good to spot vulnerable areas in your roof that might become a problem later in the future which is why we recommend looking over the warning signs it's time for a new roof, because not all roofs can last forever. 
Avoiding roof damage on your home and not taking action after reading these warning signs can lead to bigger problems down the road such as leaks, intruding animals, fungi, etc.
Various Areas of Roof are Leaking Continuously
Is your roof continuously leaking? Multiple leaks in your roof is definitely a warning sign it's time for a new roof. If replacing your roof is not in your budget right now, hiring a roofing company to repair a roof leak may sound very intimidating since the cost of a roof repair can run about $500 to a few thousand dollars while a whole new roof may be in the realm of $12,000 all the way up to $25,000. 
After analyzing these numbers, hiring a roofing contractor to repair an area of your roof that is leaking can sound like a good idea, but in reality, this is only going to drain your pockets in the long run. If your roof is continuing to leak, you can end up spending a lot of money on repairs that can be equal or even more than a full roof replacement!
Leaky roofs can not only drain your pockets in the long run, but can cause some serious damage to the roof structure, siding, soffits, fascia, and the interiors as well.
Now if your house is located in a wooded area, your roof and gutters may receive a lot of leaves. Don't hesitate to clean your roof and gutters once it starts to pile up with leaves and debris because this can be another reason why your roof is leaking. Maybe you don't need a new roof after all!
For any roof cleaning or roof repairs, we highly recommend that you call a professional roofing contractor or roofing company to first inspect your roof to point out damaged areas and potential areas to look out for in the future. After the roof inspection, the roofer should be able to discuss with you what exactly is causing leaks in your roof. 
Roof Shingles are Cracked
Cracked shingles can be caused by high winds and normal wear and tear. Cracked roof shingles are common in older roofs. If the cracking in the roof shingles is only seen in some areas of the roof, you may not have to replace the whole roof, rather you may just need to repair the cracked areas.
If the cracks are showing throughout the entire roof with no sign of stopping, then this is a major warning sign that it's time for a new roof. Cracked shingles can lead to leaks in when a major storm comes in, and you don't want to come unprepared when a major storm comes in, as this could potentially destroy your roof.
Another way of spotting cracked shingles is to climb into your attic (make sure no lights are on) and look for any sunlight coming through. Any sign of sunlight coming through, is another warning sign that it's time for a new roof. Don't wait on a roof replacement when you see sunlight coming through or if a roofer has told you that your roof shingles are cracked.
Are your heating & cooling bills increasing every year? If your answer is yes, then it could mean that either your doors and windows are not efficient or your roof is not insulated properly. When you get a new roof, it's not common for roofing companies to insert insulation in your attic, but it wouldn't hurt to ask your roofer if they can insert insulation into your attic if you do not have a sufficient amount already.
Rising energy bills can also mean that there your roof is leaking out air without you knowing. If this is the case, then have a professional roofing company inspect your roof to check and see if this is a warning sign that it's time for a new roof. I do not recommend climbing on your roof because it is very dangerous if you are not experienced in the field, leave it up to professionals to determine whether if you need a new roof or just minor repairs.
Roof Structure is Rotting
Your roof structure is the most important area of your home because this is what supports your home and keeps it from falling apart. The roof structure is the last place you would want to have problems with.
The structure of your roof can start to rot if it is exposed to excessive moisture. Please note that your roof structure is made out of wood, so once it starts to receive moisture, it can then start to deteriorate if the problem is not fixed.
Here is how to identify a rotting roof structure:
Mold growing in the attic: Mold is a result of moisture. Check to see if your insulation is wet or soggy, it can start to release an odd smell when mold starts to grow.
Improper Ventilation: sometimes a rotting roof does not mean that your roof is leaking, is could mean that it is not receiving the ventilation it needs. This can pose a severe problem to your roof structure in hotter climates. Make sure your roofer takes note of this, you may need a new roof if the inadequate ventilation has damaged the roof shingles.
Sagging roof decking: 

A good roof should not have areas that are sinking. If this is happening to you, then this could mean that any supporting beams or decking in the roof structure is rotting and needs to be repaired. Many times this can happen after a new roof replacement simply because the decking has not been repaired or replaced. In this case, you may have to get a new roof if all the decking is not straight.
Poor Roof installation: 

each roof shingles should have at least 4-5 nails each and must be nailed in a way that supports the shingle underneath so that the whole roof is intact. Any other method of installation can result in future leaks.
Most asphalt roofing shingles last 15 to 30 years. If it's been over 20 years, then this can be a warning sign that it's time for a new roof. Old roofs can start to cause issues after a long time, they can cause increased energy consumption, water leaks, and even insects and animals to seep in. 
Even if you haven't encountered any of the warning signs above, after about 20 years, your roof is in its last footsteps to defending your home against heavy rainfall, snow, hail, and debris. 
What to Expect with a New Roof Replacement
Before deciding to get a brand new roof for your home, call several roofing contractors in your area and see which one is the best fit for your needs. Make sure to check their credentials and experience. 10-20+ years of experience should meet the criteria of a professional roofer. 
Also, check to see if they are associated with any roofing product. For example, Mr. Happy House is a GAF certified roofing company and because of this, for every roof installed by us, you get a GAF system plus warranty when you decide to have us install GAF Timberline roofs. 
Go with a roofing company that offers a roof and labor warranty as this protects you from any manufacturing defects in the roof shingles and poor roof installations that lead to future leaks.
How Long Will it Take to Install a New Roof?
Roof installations on most medium sized houses between 1500-2500 square feet should take around 1-2 days if the roof is an asphalt shingle roof. Other types of roofs much as metal can take a few days to a week to install.
Some factors to consider when replacing a roof include the age of the home, condition of the decking, size of roof, steepness, and weather conditions. In some cases, if some areas of the decking are rotted, repairs can prolong the roof installation process. 
The steepness (or the slope of the roof) is another key factor in determining how long the roof installation process can take. Any roof pitch that is greater than a 12/12 slope can prolong the roof installation by a few days.
Get a New Roof That's Looks Great for Longer
Need a professional roofing company to help you with your roofing & siding needs? Mr. Happy House is an excellent choice for homeowners. We specialize in ONLY residential properties, so any problems that you might have in other areas such as your siding, fascia, and soffits, we also fix those and make them like brand new again!
If you live in Houston, The Woodlands, or Spring, Texas and are looking for a reliable roofing and siding company, don't hesitate to give us a call at (281) 831-5955.
You can also contact us here and get a quote on any siding, roofing, and exterior painting needs.
Thanks for reading this article on the warning signs it's time for a new roof, share this post with your friends on social media, or leave a comment!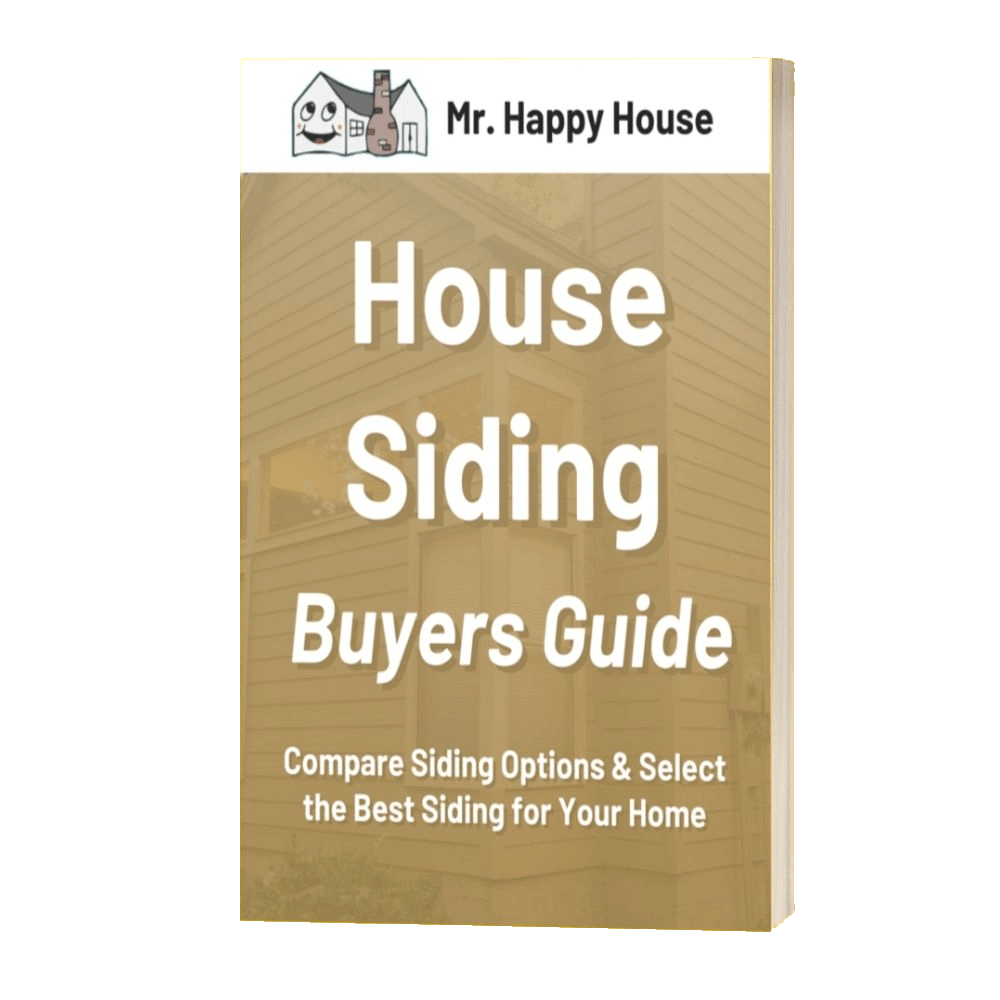 Grab the PRO House Siding Buyers Guide!
Compare different siding options, prices, and looks for your home. Select the best siding for your home with the House Siding Buyers Guide!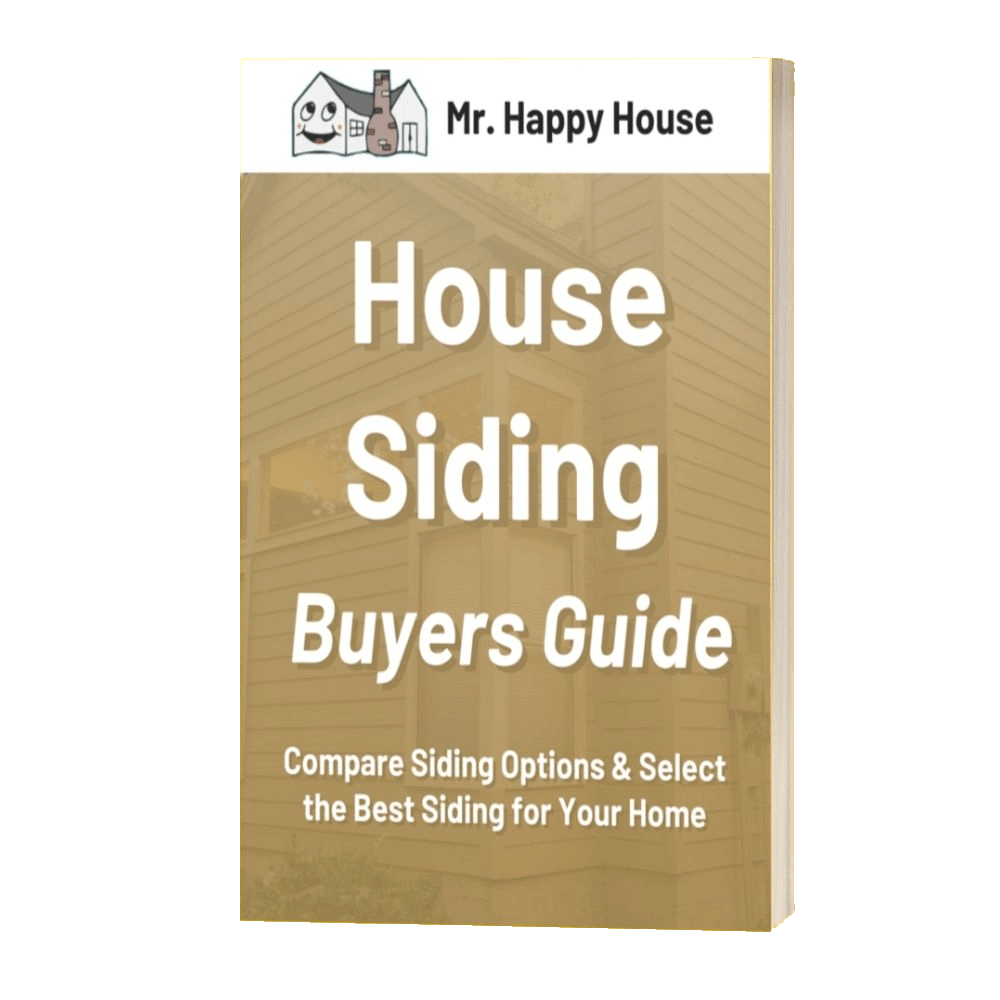 Check Out More Roofing, Siding, and Painting Articles:
Schedule a Free Estimate Today!