How Long Does It Take For Wood To Rot From Water? | Mr. Happy House
Is water coming into your home? A well built house with the right framing and expertise is surely not capable of withstanding the true forces of nature. Depending the type of wood installed, whether if it's in the framing, siding, soffit, fascia, or decking, rotted wood is never something that should be ignored. 
Over time, rotted wood can pose a serious health hazard if kept untreated for a long time. Rotted wood can start to degenerate and lose it's strength, making your home vulnerable to future damage.
The best way to prevent your wood siding, framing, soffit, or fascia from rotting is to first take preliminary steps beforehand, but if you're on this page, then it is most likely that you already have rotted wood, so let's first identify the rot and fix the issue before you have this:
The wood rot that you see above is an extreme example of what can happen to your house if you let rotted wood untreated for a long time. Let's dive into how long does it take for wood to rot from water if you're starting to have water coming in unexpectedly.
Water is Not the Main Cause of Wood Rot
Don't worry, water by itself is not going to make your wood rot right away. Here are the 3 things that need to happen for your wood to start rotting:
Exposure (if any wood siding is not painted then it can be vulnerable to rot)
Warm Temperatures
Moisture
The reason I included exposure as one of the main causes of wood rot coupled with moisture is because outside air contains thousands of particles that include fungi. Once this airborne fungi, combined with a humid climate, and water, are in contact with wood, this is when wood rot will start to happen.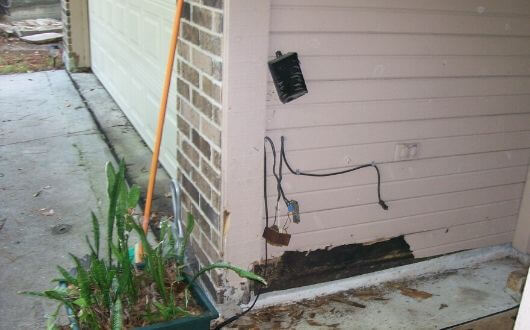 If you live in Texas or a hot climate, then there may be a good chance that any wood you have exposed will rot. A combination of untreated wood that is exposed, with warm temperatures, and constant moisture will inevitably cause wood rot to occur.
If you have wood siding, painting it with quality exterior paint every 3-6 years should extend the life of your siding from any rot. As a professional siding and painting company, we highly recommend installing Hardie Siding, which is a highly rated fiber cement siding that will never rot and can withstand high humidity in the Houston, Texas areas.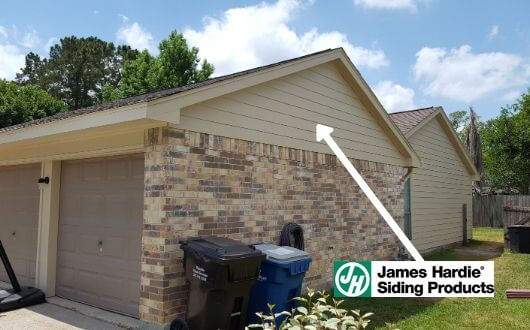 Let's Identify if the Wood is Rotted
Here are some common signs that your wood may be rotted and may need to be repaired immediately by a home repair professional:
Fungus on certain areas of wood that may appear to be white, yellow, or brown

Peeling and flaking exterior paint
Wood is brittle and can be easily broken
Wood can be easily poked through with a finger
Wood has an unusual smell
Termites or bugs are coming out (if you see this happening, call a pest control company right away!)
How Long Does it Take for Water to Start Rotting Wood?
Depending on the type of wood, water by itself is not going to rot any wood. In colder climates in states like Michigan, Wisconsin, New York, etc., water is going to take longer for it to start causing damage to wood. If you live in a hotter climate like Texas or Florida, water & moisture is very common and this can often lead to wood rotting in a short amount of time.
Most types of structural wood aren't as easy to have rotted because they are often pressure treated. Pressure treated wood is different than typical untreated wood and can be found in a local supply store such as Lowe's or Home Depot. Pressure treated wood is made with chemical preservatives that help make it more resistant against the elements. 
With all of the added preservatives and chemicals, wood is still wood and is still vulnerable to being rotted. 
Wood can Start to Rot in 1-6 months If:
Wood is untreated
The wooded area is sitting in water
Water and/or air space is hot & humid
The area is at or near the ground
Wood is exposed to dirt
Wood can Start to Rot in 1-3 Years If:
Wood is untreated
The wooded area is in a hot climate
The wooded area is not painted with the proper paint
Wood collects water on a frequent basis (from rainfall, leak in plumbing pipes, or sprinklers)
Wood is left uncleaned (applies to wood on the exterior which includes siding, structural posts on a patio, fascia, soffit, or fencing)
Wood Doesn't Last Forever
No matter the circumstances explained above, wood will eventually rot even if you paint wooded areas every couple of years, apply treated solutions, yearly cleaning, etc, after 10-25 years. If you have water leaking into structural wood from a roof or siding opening, you may want to call a roofing and siding company to fix the hole as soon as you can.
Want to Prevent Wood from Rotting?
If you already have wood in your home, areas such as the siding, fencing, posts on the outside, etc. then be prepared for ongoing maintenance. Here are some preliminary measure to take:
Fill in any small cracks/holes with caulk
Clean out your gutters when they get full (there's an easy solution for that here)
Check all areas of your home for any leaks during or after rainfall
Paint, stain, or seal wooded areas
Pressure wash or scrub dirt of wood 
Other Siding Questions You May Have:
After reading this article, you might feel a little overwhelmed. This is very typical if your house has wood siding, soffits, and fascia, or has unwanted cracks/openings around the exterior. This is why before buying a home, always do your research!
Thanks for reading this article on how long does it take for wood to rot from water, share this post with your friends on social media, or leave a comment!
Schedule a Free Estimate Today!